2023 Karoscik Realtime Contest Champion
Lin Riffle, RDR, CRR, CRC
With her third championship, Lin Riffle retires from the Karoscik Realtime Contest as of 2023. Congratulations, Lin!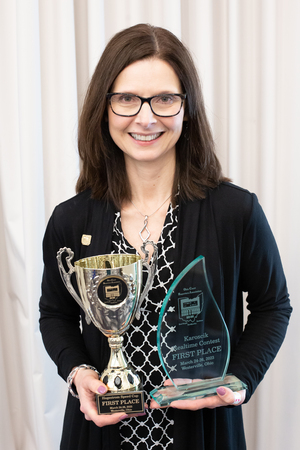 2023 Karoscik Realtime Contest

Overall Results

First Place
Champion

Lin Riffle (98.55%)

Second Place

Jane Proud (97.75%)

Third Place

Lance Boardman (97.2%)

Fourth Place

Mary Schweinhagen (96.45%)

Fifth Place

Sharon Siatkowski (96.35%)

Sixth Place

Greg Mizanin (96.15%)

Seventh Place

B. Lynn Els (95.99%)
2023 Karoscik Realtime Contest Individual Leg Results
Literary - 200 words per minute

| | | |
| --- | --- | --- |
| Jane Proud | - 18 | 98.2 % |
| Lin Riffle | - 20 | 98 % |
| Tammy McGhee | - 21 | 97.9 % |
| Jamie Pellegrino | - 32 | 96.8 % |
| Amy Doman | - 33 | 96.7 % |
| Greg Mizanin | - 33 | 96.7 % |
| Sharon Siatkowski | - 34 | 96.6 % |
| Sara Clark | - 36 | 96.4 % |
| Lance Boardman | - 38 | 96.2 % |
| B. Lynn Els | - 50 | 95 % |
| Mary Schweinhagen | - 50 | 95 % |
Testimony (Q&A) - 225 words per minute

| | | |
| --- | --- | --- |
| Lin Riffle | - 10 | 99.1 % |
| Lance Boardman | - 20 | 98.2 % |
| Mary Schweinhagen | - 24 | 97.9 % |
| Jane Proud | - 30 | 97.3 % |
| B. Lynn Els | - 34 | 96.8 % |
| Sharon Siatkowski | - 44 | 96.1 % |
| Greg Mizanin | - 50 | 95.6 % |
Some of the 2023 Karoscik Realtime Contestants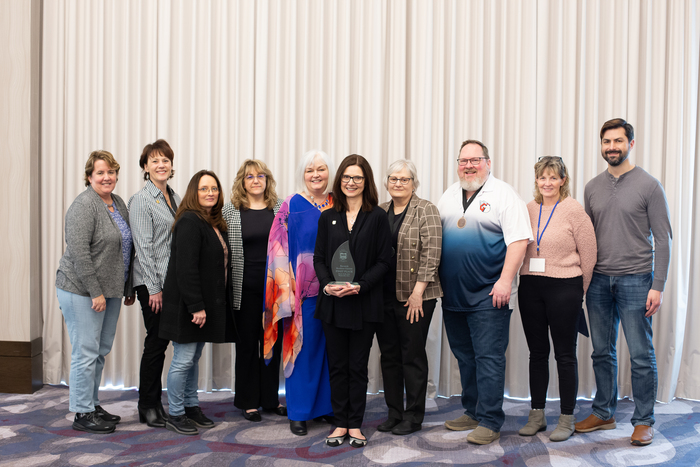 ---
Karoscik Realtime Contest Rules
Click here for the rules in downloadable PDF format
NEXT CONTEST: 2024 OCRA Annual Conference, Friday, April 5, 2024
TESTING CRITERIA:
Two five-minute tests will be dictated as follows:
Literary: 200 words per minute
Q and A: 225 words per minute
Speed will be determined by actual word count. Syllabic density may vary over the course of the five minutes.
The Literary component will consist of solid matter dictation of unspecified topic at 200 WPM. The 200 WPM one-voice literary portion may be written in ALL CAPS.
The two-voice dictation will consist of Q and A, with the Qs and As neither read nor counted, at 225 WPM. The 225 wpm two-voice Q and A portion MUST BE WRITTEN IN MIXED CASE. Two-voice Q and A transcripts in ALL CAPS will be disqualified.
Preview words for the realtime contest will be given on the day of the contest.
ELIGIBILITY:
Any writer of stenographic machine shorthand who is a member of OCRA in good standing and who has attained at least NCRA RPR or CRC status.
FINANCIAL INCENTIVES BARRED:
Contestants must give to the committee satisfactory assurance that they have not received, directly or indirectly, any remuneration or promise of remuneration of whatever character for entering or winning any part of this contest.
ENTRY FEE:
Please register on the Annual Conference registration form. The fee is $50 if paid by the registration deadline. Fee to be paid prior to contest. (Discounted combo registration available when registering for both the Karoscik Realtime Contest and Hagestrom Cup Speed Contest.)
SEATING ARRANGEMENT:
The defending champion, if present, will have their choice of seats. Subsequent seating shall be at the discretion of the chief examiner of the Karoscik Realtime Contest.
QUALIFYING:
Only one transcription will be permitted of each leg. 95% and higher qualifies. In order to qualify, contestant must write realtime into a computer and, without editing, at the direction of a testing monitor, create a printable text file. Files will be emailed to: OCRAcontests@gmail.com. Those unable to produce such a file within five (5) minutes of such request may be disqualified at the discretion of the contest chair. After verification of receipt of the file, the contestant will be required to delete all components of the file, including any audio, from hard drive and recycle bin.
The two scores for everyone who qualifies in both segments will be averaged, and the contestant with the highest average will be the champion.
Two-voice testimony can be transcribed in either Q and A format, colloquy, or by using chevrons or some other new speaker designation as long as the change of speaker is clearly obvious. Neither the Q nor A will be counted nor read. Punctuation errors will apply irrespective of speaker format. No transcript will be eligible for consideration with less than 95% accuracy.
Automatic Fail: A submitted uploaded file that does not contain printable data.
The final files for grading should be formatted as follows:
Submit each file as an RTF or ASCII or PDF
Contestant Number as given before contest should be on EACH page
NO personal identifiers anywhere on any page
AWARDS:
Winners and qualifiers will be announced during the Annual Conference. A trophy will be awarded for first place, medals will be awarded for second and third place, and an appropriate certificate to those who attain 95% or higher. The contest committee will publish/announce only names of qualifying contestants.
PDCs:
In order for a member to be granted 0.25 PDC for a speed or realtime contest, OCRA must receive preapproval from NCRA. NCRA will grant credit for these contests so long as they meet the published criteria for the speed and realtime contests held at the most recent NCRA Conference & Expo. A maximum of 1.0 credit from all non-CEU credits will be accepted by NCRA per three-year cycle.
ALL COMMITTEE DECISIONS FINAL:
The decisions of the committee made under these rules, or such supplementary rules as may be found necessary at the time of the contest, shall be final.
CONTEST MEDIA:
All submitted files become the property of OCRA and will not be available for participant review. Submitted USB flash drives will be returned back to the contestant.
GRADING:
Contestants will not be permitted to be present during the grading process. Transcripts will be marked for identification and corrected in such a manner that it will be impossible to know whose work is being examined until after the grading has been completed.
ERRORS:
Determination of what is an error shall be determined by the current "What Is An Error?" guidelines of NCRA for the CRR examination.
Two-voice Testimony can be transcribed as: (all are acceptable, no points off)
Q. Where do you live?
A. Columbus, Ohio.
or
MS. SMITH: Where do you live?
MS. JONES: Columbus, Ohio.
or
>> Reporter: Where do you live?
>> Witness: Columbus, Ohio.
---
Past Karoscik Realtime Contest Winners
2002 Donna Karoscik
2003 Donna Karoscik
2004 Donna Karoscik - Retired
2005 Heidi Geizer
2006 Lisa Conley
2007 Jacquie Gutierrez
2008 Jacquie Gutierrez
2009 Heidi Geizer
2010 Sara Clark
2011 Lin Riffle
2012 Sue Trischan
2013 Kristin Wegryn
2014 Sara Clark
2015 Lahana DuFour
2016 B. Lynn Els
2017 Lance Boardman
2018 Lisa Conley Yungblut
2019 Jane Proud
2020 no conference/contests held
2021 Lisa Conley Yungblut - Retired
2022 Lin Riffle
2023 Lin Riffle - Retired