2019 Hagestrom Cup Champion: Sara Clark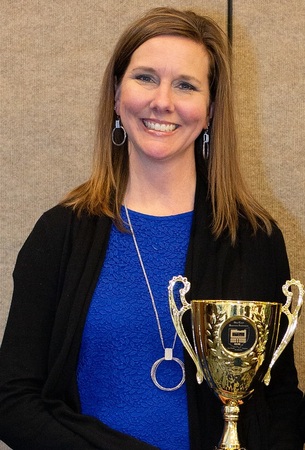 (Photo courtesy of Timothy Meinke)
2019 Hagestrom Cup Speed Contest overall results

| | | | |
| --- | --- | --- | --- |
| 1st place | Sara Clark | - 26 | 99.3 % |
| 2nd place | Lance Boardman | - 42 | 98.88 % |
| 3rd place | Lisa Conley Yungblut | - 54 | 98.46 % |
| 4th place | Kristin Wegryn | - 69 | 98.13 % |
| 5th place | Timothy Meinke | - 90 | 97.42 % |
2019 Hagestrom Cup contest individual leg results
Literary - 200 words per minute

| | | |
| --- | --- | --- |
| Sara Clark | - 8 | 99.2 % |
| Lance Boardman | - 10 | 99 % |
| Sue Trischan | - 15 | 98.5 % |
| Lisa Conley Yungblut | - 15 | 98.5 % |
| Kristin Wegryn | - 19 | 98.1 % |
| Jane Proud | - 19 | 98.1 % |
| Jamie Pellegrino | - 35 | 96.5 % |
| Tammy McGhee | - 38 | 96.2 % |
| Timothy Meinke | - 39 | 96.1 % |
Legal Opinion (Jury) - 240 words per minute

| | | |
| --- | --- | --- |
| Sue Trischan | - 0 | 100 % |
| Sara Clark | - 1 | 99.92 % |
| Tammy McGhee | - 5 | 99.58 % |
| Lance Boardman | - 5 | 99.58 % |
| Ilene White | - 8 | 99.33 % |
| Anne McBrayer | - 9 | 99.25 % |
| Kristin Wegryn | - 11 | 99.08 % |
| Jane Proud | - 13 | 98.92 % |
| Timothy Meinke | - 16 | 98.67 % |
| Mary Schuler | - 23 | 98.08 % |
| Lisa Conley Yungblut | - 28 | 97.67 % |
| Sarah Drown | - 50 | 95.83 % |
| Jamie Pellegrino | - 53 | 95.58 % |
Testimony (Q&A) - 280 words per minute

| | | |
| --- | --- | --- |
| Lisa Conley Yungblut | - 11 | 99.21 % |
| Sara Clark | - 17 | 98.79 % |
| Lance Boardman | - 27 | 98.07 % |
| Timothy Meinke | - 35 | 97.5 % |
| Kristin Wegryn | - 39 | 97.21 % |
| Mary Schuler | - 63 | 95.5 % |
---
Hagestrom Cup Speed Contest Rules
NEXT CONTEST:
2020 OCRA Annual Conference, Friday, March 27, 2020
TESTS:
Five minute tests will be dictated as follows:
Literary: 220 words per minute
Jury charge: 240 words per minute
Testimony: 280 words per minute
Total transcription time allowed: Four and a half hours.
The testimony will be two-voice dictation. Neither the Q or A will be counted nor read.
ELIGIBILITY:
Any writer of shorthand (pen or machine) who is a resident of the state of Ohio and member of OCRA in good standing and who has attained at least NCRA RPR or CRC status.
NUMBER OF TRANSCRIPTIONS PERMITTED:
One of each take.
FINANCIAL INCENTIVES BARRED:
Contestants must give to the committee satisfactory assurance that they have not received, directly or indirectly, any remuneration or promise of remuneration of whatever character for entering or winning any part of this contest.
ENTRY FEE:
Please register on the Annual Conference registration form. The fee is $45 if paid by registration deadline. Fee to be paid prior to contest.
SEATING ARRANGEMENT:
The defending champion, if present, will have their choice of seats. Subsequent seating shall be at the discretion of the chief examiner of the Hagestrom Cup contest.
AWARDS:
The contestant qualifying in the most number of sections with the highest combined percentage shall be declared "champion" and shall be awarded a Hagestrom Cup championship trophy. A contestant may win the competition three times (not necessarily in succession) and will be entitled to "retire" the cup, after which time said contestant will not be permitted to participate. Medals will be awarded to the writers who place second and third, and an appropriate certificate to those who attain 95 percent or higher on any of the three tests. No transcript will be eligible for consideration with less than 95 percent accuracy.
Winners and qualifiers will be announced during the Annual Conference. A trophy will be awarded for first place, medals will be awarded for second and third place, and an appropriate certificate to those who attain 95 percent or higher. The contest committee will publish/announce only names of qualifying contestants.
CEUs:
Effective 10/1/2011, NCRA has adopted new rules for attaining CEUs and PDCs. OCRA mirrors NCRA's rules on awarding CEUs for contests, so all contests after the 2012 speed and realtime contests will abide by the new rules.
NCRA certification holders who successfully complete a speed contest at or above the level of the RMR speeds and/or successfully complete a realtime contest at or above 180 words per minute straight matter at 96% accuracy may earn 0.25 PDC per leg. Credits for any speed contest leg or realtime contest leg will be awarded only once per three-year continuing education cycle (maximum of 1.0 credit from all non-CEU credits accepted by NCRA per three-year cycle).
TRANSCRIBING:
Participants who do not wish to do their own typing may dictate their notes, but the typist must be excluded from the examination room during dictation. Transcripts will be marked for identification and corrected in such a manner that it will be impossible to know whose work is being examined until after the grading has been completed. A printer will be provided by OCRA.
A typist may only type for one contestant. Computer-aided transcription may be used. Electric stenotype machines may be used, but only in the battery mode. No tape recorders will be permitted in the examination room except those that may be used by the Speed Contest Committee.
The Speed Contest Committee will publish no names or information concerning any contestant or transcript except such as qualify under the rules.
All transcripts and notes of such transcripts are to become the property of OCRA.
The President of OCRA will appoint a committee of three, including a chairperson, for the purpose of selecting the time, place, material, dictators, and being responsible for the overall supervision of the contest.
The decisions of the committee made under these rules, or such supplementary rules as may be found necessary at the time of the contest, shall be final.
Determination of what is an error shall be determined by the current rules and guidelines of NCRA.
---
Past Hagestrom Cup Champions
1965 Patrick F. Holland
1966 Patrick F. Holland
1967 Patrick F. Holland - Retired
1968 Sam Fasline
1969 Dennis Hagestrom
1970 Dennis Hagestrom
1971 Dennis Hagestrom – Retired
1972 F.L. Seymour
1973 Thomas F. Runfola
1974 Douglas Lindee
1975 Thomas F. Runfola
1976 Patricia C. Koltz
1977 Thomas F. Runfola – Retired
1978 Roger Yenke
1979 Patricia Koltz
1980 Cynthia Tolar
1981 Diane DiDonna Doll
1982 Diane DiDonna Doll
1983 Sandra K. Corpe
1984 Judith A. Broquet
1985 Lisa Nagy-Baker – Tied
Deborah Sniderhan – Tied
1986 Deborah Sniderhan
1987 Lisa Nagy-Baker
1988 Deborah Sniderhan – Retired
1989 Lisa Nagy-Baker – Retired
1990 Debbie Smith
1991 Sally Booth-Bennett
1992 Suzanne Vadnal
1993 Suzanne Vadnal
1994 Suzanne Vadnal – Retired
1995 Charles Cady
1996 Charles Cady
1997 Anne McBrayer
1998 Mary Frazier
1999 Charles Cady – Retired
2000 Mary Frazier
2001 Nancy Nunes
2002 Mary Frazier Schweinhagen - Retired
2003 Nancy Nunes
2004 Lynn Els
2006 Allison Kimmel
2007 Lynn Els
2008 Lynn Els - Retired
2009 Nancy Nunes - Retired
2010 Robert Lloyd
2011 Lin Riffle
2012 Sue Trischan
2013 Peggy Wellemeyer
2014 Timothy Meinke
2015 Lahana DuFour
2016 Kristin Wegryn
2017 Pamela Greenfield
2018 Kristin Wegryn
2019 Sara Clark