Complete Story

02/07/2018
Governor Kasich recognizes Ohio Court Reporting and Captioning Week
President Douglas Bettis encourages all Ohio reporters and captioners to share the excitement
---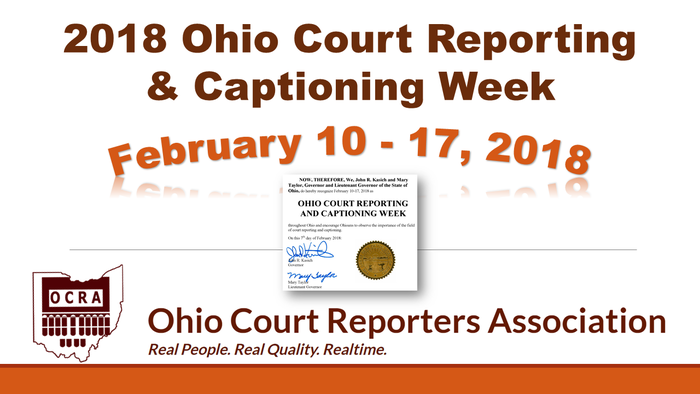 In conjunction with NCRA's sixth annual National Court Reporting & Captioning week, February 10-17, 2018, Ohio Governor John R. Kasich and Lieutenant Governor Mary Taylor have recognized and declared Ohio Court Reporting & Captioning Week. Your OCRA is proud to have achieved this declaration for our profession here in Ohio!
OCRA President Douglas Bettis is encouraging all court reporters and captioners to share the excitement of Ohio's 2018 Court Reporting & Captioning Week. In addition to the official Resolution, please view Douglas' Letter to the Editor sent to all major newspapers in Ohio and be sure to view, print, and share the Resolution and information all around Ohio's courthouses, libraries, colleges - everywhere.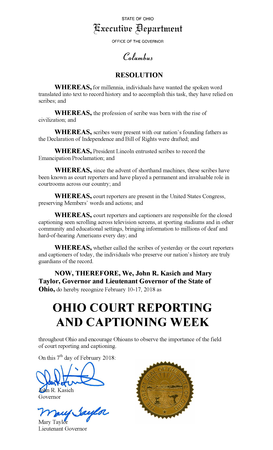 In order to assist in the recognition of the profession of court reporting and captioning around Ohio, each member of our profession is encouraged to spread the word to family, friends, and the public to raise awareness about the growing number of employment opportunities the profession offers.
For more information on raising awareness, including press release templates, logos, et cetera, please visit: www.ncra.org/awareness and www.discoversteno.org. Be sure to let OCRA know of any events you plan or recognition you receive in your local area so we can share the great news with your fellow reporters and captioners.
---
OCRA is dedicated to providing leadership and direction for the court reporting profession - past, present, and future - by offering educational opportunities and promoting technological advancements, quality services, high ethical standards, and fellowship.